Over the past ten years, the face of childbirth education has shifted.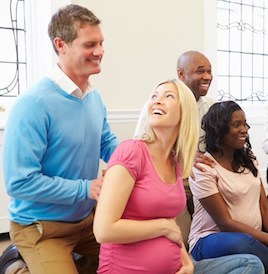 The days of attending group childbirth education classes have begun to fade as the demands on your family's time has increased. Hospitals are struggling to fill 12-week childbirth education classes. Today, the modern family is looking for classes that are more convenient and tailored to your specific needs.
At Tucson Doulas we understand the best thing about childbirth education is the educator and the information presented. Tucson Doulas' owner Angela Horn co-authored the groundbreaking How, When & Why Childbirth Education Curriculum in response to the demands of modern families for personalized childbirth education.
Everything you need to know about pregnancy & birth can be taught by answering three simple questions:
How does it happen?
When does it happen?
Why does it happen?
---
Topics Include:
Common Pregnancy Complaints
Common Prenatal Testing
Anatomy of Birth
The GPS of Birth
Fetal Positions
The Labor Process
The Stages of Labor: Eliminating the Stage Fright
Medical & Non-Medical Pain Relief Options
Positions for Labor & Birth
Interventions
The Welcoming Hour – After Birth
---
Hospitals, birth centers and independent childbirth educators across the globe are teaching this comprehensive, evidence-based curriculum. The feedback on this course has been overwhelmingly positive, from both childbirth educators and families alike!
It is with great excitement that we bring this comprehensive, boutique style, childbirth education option to families in the Tucson community. We teach our classes in the comfort of your own home.  If you have friends who are also expecting, we can teach small group classes for 2-3 couples at a time. Childbirth education is always more fun with friends!
Unlike traditional childbirth classes, our childbirth education options allow you to choose from two pre-designed classes, or you may choose to build a custom class from our 15 modules, suited to your specific educational needs and budget.
If you'd like more information on our revolutionary childbirth classes, please head on over to the "Contact Us" page and make sure you select the Childbirth Education option.